Andrew received his formal education from Brigham Young University and began his career at CCI in 1993. He helped open the company with his father as a local residential "Mom & Pop" flooring shop. Since that time, he has played a key role in transitioning the company into a reputable commercial flooring business.  He is responsible for implementing and aligning corporate goals, strategic planning and leadership training.  In addition, he also is responsible for streamlining technology to keep pace with industry trends. Andrew works closely with the Controller on all financial aspects of the company and has stewardship over sales, safety and training.
Outside of work, Andrew's personal interests include coaching and supporting his children in soccer and teaching International Latin ballroom dance.
Gisa Ott – Vice President of Sales and Management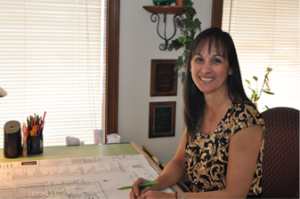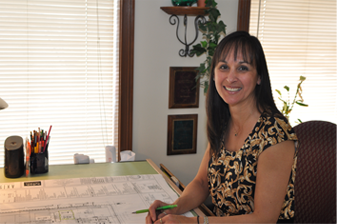 Gisa came to CCI in 1993 with a MS degree from Indiana University in Adult Education and a certification in Corporate Training & Organizational Development.  She started in the residential division, but later moved into commercial sales and service.  Gisa is responsible for continued business planning and strategy, building and maintaining positive client relationships as well as supervising the execution of work.
Her personal interests include being a youth counselor and instructor at church, adult Boy Scout volunteer, as well as Cub Scout volunteer for 14 years.  Gisa is a certified kickboxing instructor and continues to teach on a weekly basis.  She also sings in a group known as A Joyful Noise.  This group performs for various civic events throughout Indianapolis.
Chris has provided estimating and bid work services to various contractor's and project owners since 1993. Chris received his education from Vandercook College of Music in Chicago.  He specializes in tenant interior build out and remodels.
Chris' owns and operates a local reputable parking management company and shuttle service.
In his spare time he enjoys coaching soccer and is a member of the Tri-West youth soccer board.
Holly graduated from IUPUI with a Purdue degree in Interior Design Technology.  After some experience in other realms of design, she knew she wanted to manage her own projects and work in conjunction with the construction industry. Since becoming an estimator and project manager for CCI, she enjoys the technical challenge of the flooring industry and seeing the design ideas in construction documents take shape.
Outside of work Holly enjoys outdoor activities, working on her home, and spending time at her family's dairy farm.
Connie started working for CCI, LLC in 1998. She was hired on as the Accounts Receivable/Payable Clerk.  She continued her education and received her Accounting Certification from IUPUI.  Her current role at CCI is maintaining all financial business for the company. She also handles project contracts and the financial side of project management.  Connie has been with CCI, LLC for 15 years.
In her free time she enjoys reading, gardening and spending time with her family.
Doug received his education from Southmont High in 1993.  He joined the CCI team in 2004 and started his career as an apprentice helper.  He completed his Apprenticeship and received his Journeyman Certificate from the U.S. Department of Labor in 2008.
Doug is CFI certified and has also received formal training with Forbo, Armstrong, and Ardex.
He handles scheduling, quality control and customer satisfaction. Doug oversees day to day activities and addresses any installation related issues in the field. Off the clock, he enjoys time with his family and watching NASCAR and football.